Check Rates in Less than 2 Minutes
Loans Typically Fund in 1-5 Days
Get the Best Monthly Payments that Fits your Budget for your Flooring Project.
Finance the your Flooring Project with a Full Guarantee on the Flooring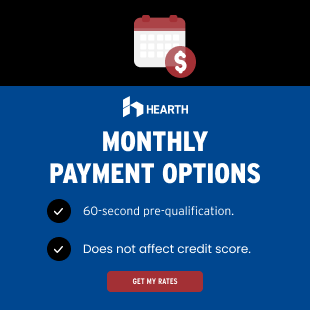 Hearth helps homeowners make smart financial decisions about their home improvement projects. We connect homeowners to financing options that meet the needs of almost any project, and we get it done quickly.
How Does It Work
Pay for your project with predictable monthly payments without tapping into
your home equity.
Call Hearth (512) 686-4141
eMail: support@gethearth.com
View or Download the Hearth's Flyer
To learn more about Hearth's Financing . click on the flyer image below to obtain a PDF document.
Call Us
Call Us to Ask any Question or Start a Free Quote
Office Phone #
(813) 645-1201
Showroom Location
13163 US 301 G1 Riverview, FL 33578
Open Hours
Mon -Fri: 10am - 5pm
Sat: 10am - 2pm
Email
info@TricolorFlooring.com